Lenovo ThinkBook Plus - nietypowa konstrukcja z ekranem e-ink
21-04-2020, 15:20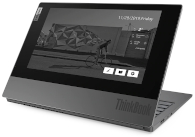 Lenovo ThinkBook Plus
 to innowacyjne rozwiązanie, które stanowi rozszerzenie funkcjonalności standardowego notebooka - górą pokrywę notebooka zastąpił ekran e-ink, dzięki czemu urządzenie posiada dwa wyświetlacze. Ceny tego 
laptopa
 zaczynają się ponadto już od mniej niż 7000 zł.




Notebook ma jedynie 17 mm grubości i waży tylko 1,4 kg, dzięki czemu jest to urządzenie zgrabne i mobilne, który bez żadnych przeszkód zabierzemy na spotkanie z klientem lub służbową podróż. Dostępny na górnej pokrywie matrycy ekran e-ink pozwala nam na dostęp do powiadomień, kalendarza czy poczty, umożliwia nam również pisanie notatek, także odręcznych. Co istotne, ekran e-ink korzysta z zasilania tylko podczas zmiany strony. Oznacza to, że w przypadku korzystania z baterii samo wyświetlanie treści w żaden sposób nie wpływa na jej poziom naładowania. 
Wewnątrz komputera czekają na nas jednostki Intel Core i5 lub Intel Core i7, do tego maksymalnie 16 GB RAM oraz szybki dysk M.2 SSD PCIe NVM. W urządzeniu nie zabrakło również czytnika linii papilarnych oraz układu szyfrowania TPM.
Ekran laptopa to matryca 13,3 o standardowej rozdzielczości Full HD (1920 x 1080 pikseli) oraz ekran e-ink o przekątnej 10,8. Aluminiowa obudowa ze szklaną pokrywą została wyposażona w dwa złącza USB 3.0, USB-C 3.1 z funkcją ładowania i Display Port, HDMI i gniazdo słuchawkowe..
Zapraszamy do zakupów. W razie dowolnych pytań prosimy o
kontakt
.
Laptopy Lenovo
Lenovo ThinkBook
Lenovo ThinkBook Plus