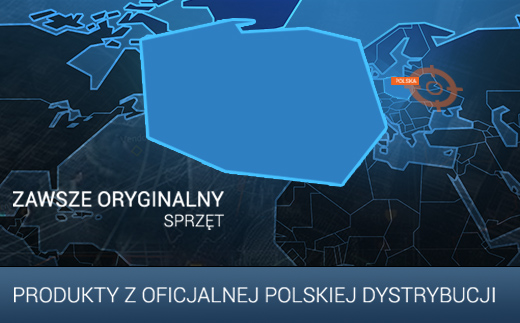 W ofercie kuzniewski.pl znajdą Państwo wyłącznie sprzęt
najlepszych producentów
. Mając na uwadze dbałość o wygodę naszych klientów, sprzedajemy produkty kupione bezpośrednio od producentów lub od autoryzowanych dystrybutorów. Dzięki temu nigdy nie uświadczą Państwo problemów z gwarancją.
W zdecydowanej większości (około 99,9%) nasz towar pochodzi z oficjalnego polskiego kanału sprzedaży. Wyłącznie w sytuacjach, gdy nie jest możliwe pozyskanie danego produktu w Polsce, sprowadzamy go z zachodnioeuropejskich kanałów sprzedaży, dbając jednocześnie o to, by zachowana była ważność obowiązywania gwarancji. 
Wszystkie produkty sprzedawane w kuzniewski.pl są nowe. Wydaje się to oczywiste, jednak w skomplikowanych realiach handlu w Internecie wolimy to podkreślić. Sprzedajemy wyłącznie produkty nieużywane, zapakowane w fabryczne opakowania.
Jeżeli produkty, które Państwo zamówiliście, były kiedykolwiek rozpakowane, to tylko przez naszych specjalistów, którzy sprawdzali, czy są one w pełni sprawne i pozbawione fabrycznych wad. Przez kontrolę jakości przechodzi każdy sprzedawany przez nas notebook, tablet, desktop, All-in-One oraz stacja robocza. Należy to do naszego
pakietu usług
, który zawarty jest w cenie każdego komputera.