Getac RX10 - wysoka mobilność i solidność
28-05-2019, 15:19
Tablet Getac RX10
jak każdy sprzęt klasy
rugged
może pochwalić się ogromną wytrzymałością, jednak to nie jedyna jego zaleta. Urządzenie cechuje się też sporą funkcjonalnością, którą można w dodatku znacznie rozszerzyć, wybierając odpowiednie akcesorium.
Obudowa o grubości 19 mm i wadze 1,2 kg to dość sporo jak na
tablet
, jednak w przypadku firmy
Getac
jest to w pełni zrozumiałe - konstrukcja może pochwalić się certyfikatami MIL-STD-810G, MIL-STD-461F oraz IP65, w dodatku RX10 może działać w zakresie temperatur od -21 do nawet 55 stopni Celsjusza.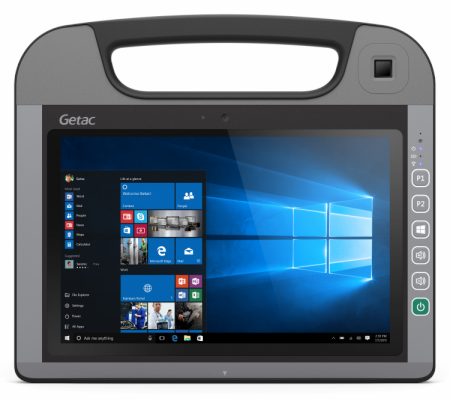 Nad ekranem umieszczono rączkę do wygodnego przenoszenia tabletu. Producent podkreśla tym samym, że tablet zaprojektowano z myślą o jak największej mobilności, na co duży wpływ ma także obecność modemu LTE lub przynajmniej możliwość jego zainstalowania.
Na pokładzie opisywanego modelu znajdziemy jednostkę Intel Core M 5Y10c i 4 GB RAM. Zamontowany dysk SSD oferuje 128 GB wolnej przestrzeni, a o bezpieczeństwo dba układ szyfrujący TPM. Opcjonalnie tablet można wzbogacić też o czytnik linii papilarnych.
Ekran ma przekątną 10,1 cala i wyświetla obraz w rozdzielczości WUXGA (1920 x 1200 pikseli). Należy podkreślić, że jest to ekran pojemnościowy, co oznacza, że można go obsługiwać nawet w grubych roboczych rękawicach. Technologia LumiBond zapewnia wysoką czytelność nawet w pełnym słońcu i jasność ekranu dochodzącą do nawet 800 cd/m2.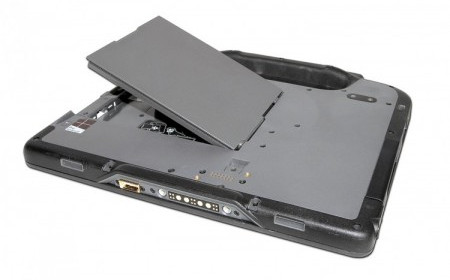 Dostępne gniazda obejmują dwa USB i Micro HDMI. Do tego dochodzi złącze stacji dokującej umożliwiające podłączenie dedykowanych
akcesoriów
, takich jak np. estetycznie wykonana podstawka z czytnikiem Smart Card. Warto wspomnieć, że Getaka RX10 można też dozbroić w czytnik kodów kreskowych, co uczyni z niego doskonałe narzędzie pracy na magazynie czy hali produkcyjnej.
W celu dokładnego skonfigurowania sprzętu odpowiadającego potrzebom Państwa firmy prosimy o
kontakt
z naszymi specjalistami. Zapraszamy do zakupów.
Tablety Getac
Getac RX10