Wrocławski salon sprzedaży kuzniewski.pl znajduje się w budynku "Save The World", na ulicy Łaciarskiej 62
Salon sprzedaży:
Łaciarska 4
50-104 Wrocław


Godziny otwarcia:
Pon - Pt
9:00 - 17:00

wroclaw@kuzniewski.pl
(71) 33 75 899
Poznań to piękne miasto i biznesowa wizyta w stolicy Wielkopolski to zawsze dobry pomysł, ale nie zawsze jest na to czas. Z tego względu w kuzniewski.pl ruszamy do ofensywy i nasze nowe placówki zaczynają pojawiać się w kolejnych miastach. Na początek zawitaliśmy do Wrocławia - kulturowego i biznesowego serca Dolnego Śląska.
Wrocławskie biuro handlowe kuzniewski.pl to ulokowane w biznesowym centrum miasta wyjątkowe miejsce, zapewniające dostęp do najnowszych i najlepszych rozwiązań IT. Profesjonalni doradcy klienta pomogą w dobraniu odpowiedniego sprzętu do profilu firmy - bez względu na to, czy jest to jednoosobowa działalność gospodarcza, czy korporacja. Nasza oferta dotycząca informatycznej struktury firmy jest kompleksowa i nie kończy się jedynie na wyborze sprzętu. Pomagamy także w doborze rozszerzeń gwarancji, doradzamy, jakie urządzenia peryferyjne zwiększą wygodę i efektywność pracy oraz zajmujemy się rozbudową zakupionego sprzętu.
Klientom dojeżdżającym samochodami polecamy dwa parkingi wielopoziomowe: "Szewska Centrum" (wjazd od ul. Łaciarskiej) znajdujący się ok. 50 m od salonu lub "Galeria Dominikańska" (wjazd od pl. Dominikańskiego) znajdujący się ok. 200 m od salonu. Biuro handlowe kuzniewski.pl mieści się u zbiegu ulic Łaciarskiej i Oławskiej, w świeżo odnowionym budynku "Save The World - Business Centre", przy jednej z ulubionych tras spacerowych wrocławian.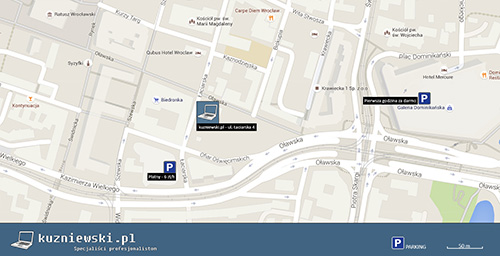 Kliknij, aby powiększyć mapkę
Prezentacja oferty u klienta

W kuzniewski.pl doskonale zdajemy sobie sprawę, że nasi klienci nie zawsze mają czas i możliwości odwiedzenia naszych salonów. Z tego powodu wychodzimy naprzeciw Państwa oczekiwaniom. Możemy dojechać w każde miejsce w Polsce, porozmawiać o Państwa potrzebach i zaprezentować naszą ofertę. Cenimy sobie bezpośredni kontakt - dzięki niemu szybciej i lepiej reagujemy na Państwa indywidualne oczekiwania.